Product Summary
The MC74F04DR is a digital temperature sensor suited for low cost applications. Temperature data is converted from the integrated thermal sensing element and made available as an 8–bit serial digital word. Communication with the MC74F04DR is accomplished via 2–wire SMBus/I2C–compatible serial port. Temperature resolution is 1℃. Conversion rate is a nominal 8 samples/sec. Power consumption is only 200 mA (5 mA Standby).
Parametrics
MC74F04DR absolute maximum ratings: (1)Power Supply Voltage: 6.0 V; (2)Voltage on Any Pin: (GND – 0.3 V) to (VDD + 0.3 V); (3)Operating Temperature Range: –40℃ to +125℃; (4)Storage Temperature Range: –65℃ to +150℃; (5)Current on Any Pin: ±50 mA; (6)Maximum Power Dissipation: 330 mW.
Features
MC74F04DR features: (1)Tested Operating Temperature Range: -40℃ to +125℃; (2)Simple Serial Port Interface; (3)Solid State Temperature Sensing; (4)±2℃Accuracy from +25℃ to +85℃; (5)±3℃Accuracy from 0℃ to +125℃; (6)3.3V and 5.5V Versions.
Diagrams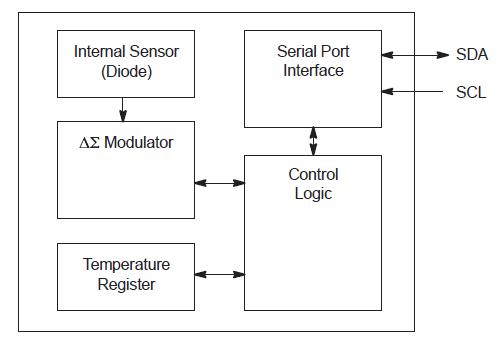 MC74

Other



Data Sheet

Negotiable

MC740-430E

Other



Data Sheet

Negotiable

MC7410TVU400LE

Freescale Semiconductor

Microprocessors (MPU) REV 1.4,-40C PB FREE SPH

Data Sheet



MC7410VU400LE

Freescale Semiconductor

Microprocessors (MPU) REV 1.4 105C PB FREE

Data Sheet



| | |
| --- | --- |
| 0-31: | $49.79 |
| 31-100: | $45.32 |


MC7410VU450NE

Freescale Semiconductor

Microprocessors (MPU) NITRO RV 1.4 ROHS

Data Sheet

Negotiable

MC7410VU400NE

Freescale Semiconductor

Microprocessors (MPU) NITRO RV 1.4 ROHS

Data Sheet

Negotiable